Greece is a fantastic choice for your destination wedding because of its rich history, vibrant culture, beautiful beaches, and an ideal climate.
Greece has a lot to offer couples seeking a lavish and really unforgettable wedding, whether they are planning a fairytale destination wedding or a laid-back coastal bash.
Jetting off to a new country can be a bit daunting, especially if you're getting married there as you want to know you have everything in place and that you're making the right decision. 
As a destination wedding photographer I have experienced all of the ins and outs of destination wedding planning, and let me tell you, Greece is one of my absolute favourite places for couples' nuptials. So, here is my Greece destination wedding guide!
7 Things To Consider For Your Greece Destination Wedding
Knowing how to plan a destination wedding in Greece is important, so you have prepared everything you need and done all of the legal aspects so the process runs smoothly.
Choose a Greece Wedding Destination

Choose a Greece Wedding Venue

Make Arrangements Well in Advance

Hire a Destination Wedding Planner

What are the Legal Requirements to get Married in Greece?

Greek Weather

Choose Your Greece Destination Wedding Suppliers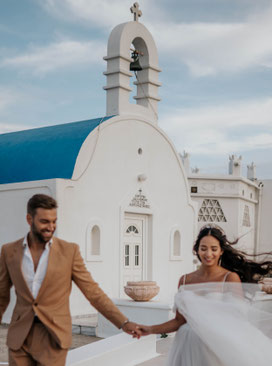 Choose a Greece Wedding Destination
There are many wedding locations in Greece to choose from and it all depends on what your vision is and what your requirements are.
Where would you like to have your Greece destination wedding? Some people decide to wed in a city like Athens. Others choose a setting that is more rustic, perhaps on an island or in the mountains.
Which option you choose will depend on a number of things. However, if you already have an ideal location in mind, this will greatly influence how your plans pan out.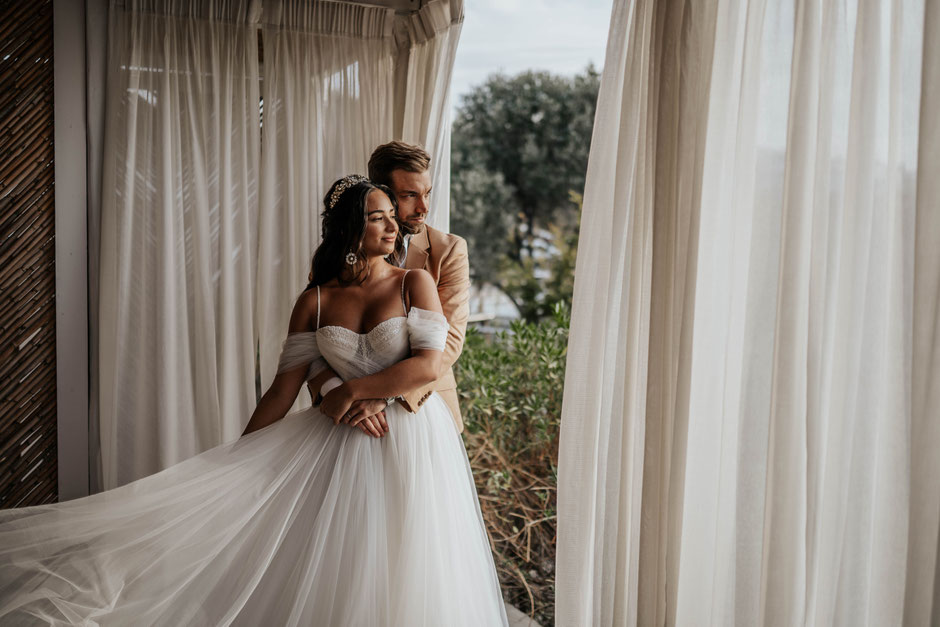 Choose a Greece Wedding Venue
After choosing your Greece wedding destination, the next step is to choose and secure your Greece wedding venue.
Your wedding venue is the first wedding supplier you should book because this will determine the date of your day, as well as what other suppliers you need to book to achieve your dream Greece destination wedding.
Some wedding venues will offer things such as catering, entertainment and music, however not all of them will so make sure you ask all of the detailed questions whilst choosing, as this will determine what other wedding suppliers you need to book.
Whether you are searching for a Greece beach wedding venue or a Greece wedding resort, this country offers a multitude of stunning wedding venues for everyone and I have recommended some of the best Greece destination wedding venues here for you!
Make Arrangements Well in Advance
It is a good idea to start planning your Greece destination wedding well in advance because the more organised you are with the planning process, the more smoothly the process will pan out.
Give your guests plenty of notice, as well as plenty of time to make their travel arrangements.
Hire a Destination Wedding Planner
A specialist can simply assist you in making the basic arrangements, like choosing a location and venue. However, a good planner will progress things by taking care of every little thing.
They can make arrangements to plan the reception, order flowers, buy gifts, and much more. They can also call and reserve a church. This will significantly make life easier for you and mean you know everything is being done right.
It takes a massive weight off your shoulders and is well worth the investment!
What are the Legal Requirements to get Married in Greece?
The list of legal documents may differ from location to location in Greece. Keep in mind that there are more than 200 registry offices and an equal number of town halls throughout Greece, so this information may alter depending on the location of your Greece destination wedding.
For a civil wedding:
Copies of both parties' passports (Photocopy of original).
Both parents' names are listed on the bride and groom's complete birth certificates (one for each of you) needed certification via Apostille stamp.
There is a requirement for an Apostille-stamped certificate of non-impediment to marriage from the municipality where you are registered, the county office, or the town hall. This paper attests that there are no obstacles in the way of the impending marriage.
You must obtain a divorce certificate, or a certified copy of the decree absolute, from civil authorities if one or both parties have been married before.
If you have changed your name, you must present an official court certificate.
Birth certificate, death certificate, or adoption certificate.
The Apostille Seal. Your documents' legality and legitimacy for usage abroad are indicated by this stamp. (Hague Convention of 1961 Abolishing the Need for Legalization of Foreign Public Documents). Birth certificates and Certificates of Non-Impediment to Marriage issued by the Municipality where the person is registered require the Apostille Stamp.
Copy of two witnesses' passports
Greek Weather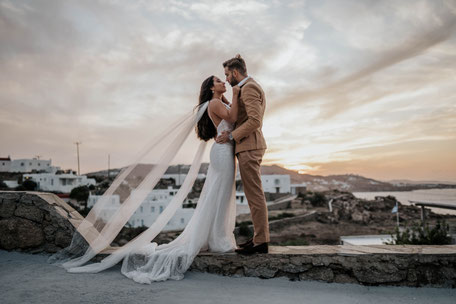 Greece's warm, Mediterranean climate is well-known.
Typically, winters are moderate and wet, with some snowfall in the north and higher elevation areas. Summers are dry and hot, with highs of more than 100 degrees on the warmest days. 
Greece typically experiences over 250 days of sunshine a year, making it the ideal location for an outdoor Greece destination wedding.
I advise travelling to Greece between April and November, with the warmest months being June through August.
However, the two-week span from August 1 to 15 is a national holiday. Be advised that there will be more people around this time because many Greeks are off from work and on summer holidays.
Choose Your Greece Destination Wedding Suppliers
Once you have chosen and secured your venue and wedding date, it is time to choose your other destination wedding suppliers. Ensure that the suppliers you choose are those who understand your vision, as well as have experience in destination weddings. 
I am a destination wedding photographer and I absolutely adore speaking to couples' planning their Greece destination wedding and jetting off with them to capture their gorgeous day for them to look back on and remember. 
Choose destination wedding suppliers that will not only create the day you dream of but ensure you get along with them for a smooth and stress-free process and make sure they understand how destination weddings work. It is sometimes a good idea to look at local suppliers too!
Plan Your Greece Destination Wedding
Your Greece destination wedding guide will help you with your planning process for a stress-free and organised adventure. It is a magical and exciting time in your life, so my top tip is to enjoy it as much as you can and create the day you envision with your loved one!