Thinking about saying "I do" abroad but you don't know where to start? It's time to turn those dreams of Greek weddings into a reality. 
Greek weddings can be as extravagant or as simple as you choose. Make the decision to have your destination wedding in the beautiful Santorini, where the pond-like waters and majestic island mountains are stretched out before you like a scene from a Greek myth.
Or perhaps you would prefer a straightforward beach wedding with a few chairs and lots of candles spread out on the sand. 
Here are some of my top destination wedding venues in Greece, that you don't want to miss.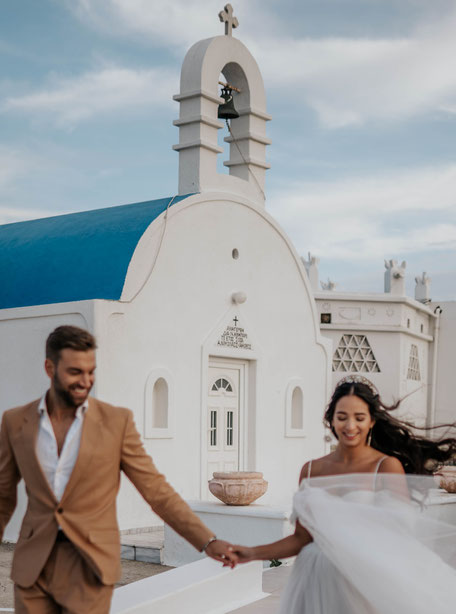 Top 8 Destination Wedding Venues in Greece
Aenaon Villas

Canaves Oia

Agreco Farm

Mandola Rosa

The Secret View

Church of Agios Loannis, Skopelos

Rocabella Hotel

Four Seasons Astir Palace
Aenaon Villas
Santorini's architecture, which combines whitewashed surfaces with volcanic stones and conveys a sense of both austerity and luxury, is brilliantly displayed in Aenaon Villas. This gorgeous destination wedding venue in Greece is a place where tradition and modernity coexist harmoniously.
This venue consists of six magnificent villas and offers breathtaking views, is unquestionably one of the most exquisite places to organise a wedding in Santorini. 
Canaves Oia
Oia has changed significantly from its prime as a thriving mariners' town in the late 19th and early 20th centuries to its current status as the iconic Santorini backdrop you see on postcards. 
If you have your heart set on having your Greece wedding in this picture-perfect village in Santorini, go no farther than the Panorama Balcony of Canaves Oia Suites.
For reception dinners, a distinct covered area known as the Caldera Arch area, located opposite the Panorama Balcony, provides a pleasant dinner setting where guests can savour Canaves' mouthwatering dishes.
Agreco Farm
Surrounded by vineyards and olive trees, Agreco Farm boasts organic cuisine and breathtaking backdrops ideal for elegant weddings with rustic accents.
The exclusive resort has a church named "St. Nicholas" for religious services and a village square for civil or casual wedding ceremonies. Every stone at Agreco is hand-shaped, preserving the delicate balance between nature and humanity.
An olive press, a watermill, a wood-burning oven, a general store, a wine cellar, and workshops are all located on the property.
Mandola Rosa
At Mandola Rosa, choose to exchange vows either in front of the resort's very own church of St. Anargyroi, where local priests can conduct a Greek Orthodox service if wanted or beneath a flower-decked beach gazebo.
If you fancy arriving by carriage or on horseback the Olympia equestrian centre is on hand to make your day extra special. 
This destination wedding venue in Greece is situated on one of the best beaches in the Mediterranean, allowing you to experience an exceptional wedding while taking in the wonder of the Peloponnese.
The Secret View
A brand new secret wedding gem on the spectacular island of Paros, The Secret View is an impressive destination wedding venue in Greece poised to create memorable, heartwarming events.
The family Estate of Fladakia is located immediately above Golden Beach Bay and offers the most breathtaking views of the Aegean Sea, making it the ideal location for outdoor island weddings. The terrace offers a fantastic lower level and lounge area with stone-built sofas which proves the ideal spot for cocktails and a touch of shade.
Church of Agios Ioannis
Get yourself a Mamma Mia wedding on the idyllic island of Skopelos. Relive the iconic wedding scene, perched on top of a rock in the church of Agios Ioannis. 
You can then have your wedding photos by the church after you say "I do," or decide to visit some of the island's many filming spots. You might even forego the chapel and hold the ceremony on the Amarantos rocks instead, where you and your spouse can snap beautiful photos. 
Rocabella Hotel
Rocabella Hotel is home to one of the most beautiful islands in the Cyclades and provides a dazzling backdrop for Greek weddings. This luxury hotel looks out on the Aegean Sea and includes a variety of wedding locations that take advantage of the blue sea views.
The Infinity Kiosk, a glass-enclosed balcony at the top of the hotel, is a very popular destination wedding venue in Greece for wedding ceremonies or receptions. Additionally, you can exchange vows by the Infinity Pool, which has views of the ocean and is surrounded by Greek marble and whitewashed walls.
The Exclusive Pool is where most receptions are held and where larger gatherings can be held.
Four Seasons Astir Palace
This wedding destination venue in Greece offers a variety of magnificent event spaces and is situated on the seashore just outside of Athens. The Plateia Terrace, a grassy meadow perched over the lake, the outdoor Living Room Terrace, which offers breathtaking sunset views, the Arion Ballroom, which dazzles with floor-to-ceiling windows, and the enormous Nafsika Ballroom with walls of windows and a sweeping terrace are all of your options.
From wedding photos with picturesque backdrops to a bespoke menu encompassing the vibrant local flavours and custom-made cocktails. An unparalleled venue for celebrating the most significant day of your life is available at the Four Seasons Astir Palace Hotel.
Are You Ready to Book Your Dream Destination Wedding Venue in Greece?
The venue selection process is the most difficult part of wedding planning. There are so many different things to consider. From the location to the capacity, from the facilities to the flexibility, there are decisions to be made that must fit the two of you and your guests.
If you first decide on the style of wedding you want to host and the mood you want to create, the decision is made much easier. I hope these top destination wedding venues in Greece have helped you in your search!
You can inquire about my services here if you wish to hire your destination wedding photographer.