You have always dreamed of exchanging vows in Italy and I completely understand why!
Italy is known for being a country of love, with many of its cities being hotspots for romantic trips away and every year thousands of people get married in this beautiful country.
The good news is that if you choose Italy for your wedding, you won't even need to book a flight somewhere else to spend your honeymoon because Italy makes for a beautiful honeymoon destination.
However, picking a wedding venue abroad might be much more difficult than choosing one locally because you may not be as familiar with the area, speak the local language, or know where to look.
Don't worry! I am here to help you with planning your destination wedding as well as providing you with some of the top destination wedding venues in Italy.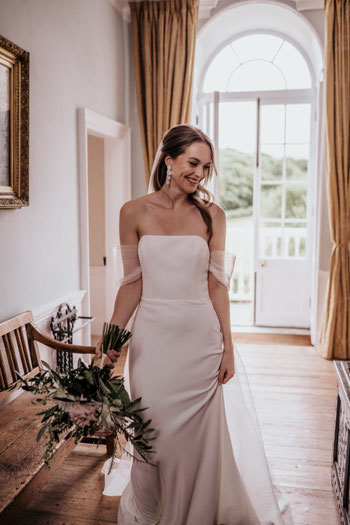 Top 5 Wedding Venues in Italy
Villa del Balbianello

Villa Aurelia

Aman Venice

Borgo Santo Pietro

Tonnara di Scopello
Villa del Balbianello
There are several lovely properties on Lake Como, but Villa del Balbianello is one of the best.
The villa has hosted scholars, and tourists since it was constructed in the late 1700s for Cardinal Durini, a scholar and patron of the arts.
The Fondo Ambiente Italiano (FAI), a group devoted to protecting historic estates and gardens all throughout Italy, is currently in charge of managing it.
This destination wedding venue in Italy, which is perched on a wooded promontory, has a stunning location, excellent architecture, and lovely grounds.
It is only accessible by boat, which makes the journey there more magical.
Couples with a maximum of 50 guests willing to have their celebration while the villa is open to the public can save on the rental fee. 
Villa Aurelia
The lavish Villa Aurelia from the 17th century is located on Janiculum Hill, high above the city, and offers stunning views. It is owned by the American Academy in Rome.
There are other areas that can be used at this destination wedding venue in Italy, including the lovely Italian and lemon gardens, a large hall, the galleria, the music room, and a dining room that can accommodate 200 people.
The cost varies depending on the areas you intend to use and the villa only hosts one event per day.
Aman Venice
Imagine taking a gondola or, even better, a speedboat to go to your destination wedding venue in Italy. One benefit of having your wedding in Venice is this exactly, at Aman Venice.
The seven-star hotel, located in the 16th-century Palazzo Papadoli, has rich interiors with plenty of beautiful backdrops for your wedding photography, including the ballroom with views of the Grand Canal and the salon with a grand piano.
For your wedding night celebrations, make sure to reserve the Tiepolo suite, which includes genuine ceiling murals by the Renaissance artist.
Borgo Santo Pietro
With an 800-year-old villa, standalone villas providing more space for the bridal party, two restaurants (one of which has a Michelin star), a spa that uses the resort's own Seed to Skin skincare line, and spacious gardens, this sprawling estate in the Tuscan countryside is the ideal location for a rustic yet elegant wedding.
Borgo Santo Pietro, a destination wedding venue in Italy allows you to hold your wedding in the middle of the lake, amid the gardens, or beneath a cupola with a view of the Tuscan hills and valleys.
There is a two-night minimum stay requirement for weddings with more than 20 guests, but if your guests are coming from abroad, they'll likely want to stay for at least that long anyway. 
There are lots of activities to keep you all occupied, such as cooking courses and picnics by the beach!
Tonnara di Scopello
Sicily's coast used to be full of tonnaras (i.e. tuna processing facilities). The one at Scopello has been transformed into an open-air museum and event space right on the water whereas most have been abandoned.
The region was once a little fishing community, as evidenced by the worn walls and Mediterranean garden.
At this stunning destination wedding venue in Italy, Tonnara di Scopello, the chef, florist, and DJ can all be chosen by couples hiring the tonnara, and they are also free to bring their own alcohol.
The setting is perfect for summer weddings when visitors may see Palermo, the neighbourhood beaches, and Sicily's first nature preserve, Riserva Naturale dello Zingaro.
Choose Your Dream Destination Wedding Venue in Italy
Choosing a wedding venue in the destination of your dreams can be difficult, as you just want it to be the perfect fit.
There are so many different things to consider, from the location to the capacity, from the facilities to the flexibility, there are decisions to be made that must fit the two of you and your guests.
If you first decide on the style of wedding you want to host and the mood you want to create, the decision is made much easier.
I hope these top destination wedding venues in Italy have helped you in your search!
Looking for a destination wedding photographer to capture the magic of your day? You can enquire about my services here!