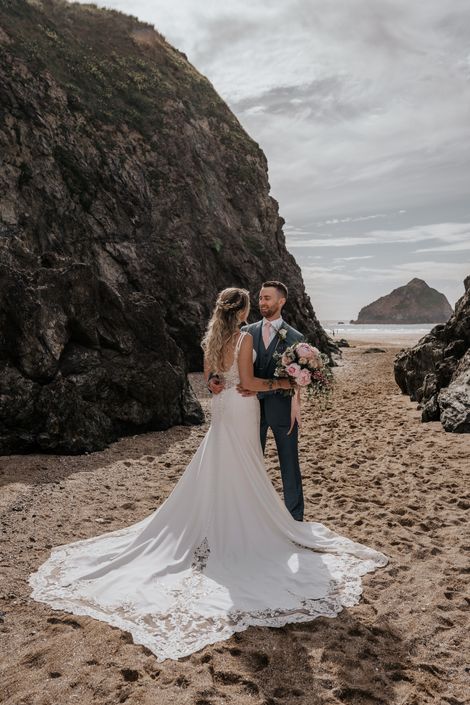 This beautiful location in the UK has picture-perfect scenery and plenty of opportunities for making lasting memories. If you're looking for a gorgeous spot to exchange your vows, Cornwall is the place to elope. There are plenty of gorgeous places to elope Cornwall, with its spectacular coastline and stunning countryside.
We understand that wedding planning can be stressful. There are numerous factors to consider, including the venue and décor, as well as the guest list, cake, and photographer. It's no surprise that more couples are choosing to elope on their wedding day than ever before.
For those looking for something easy and relaxing, elopements in Cornwall are becoming increasingly popular. Cornwall is the place to elope if you're searching for a one-of-a-kind wedding venue. From natural coasts and sandy beaches to rolling hillsides and woodlands, this wonderful region has it all!
To assist you with your planning, we have compiled a list of some of our favourite wedding locations so you can decide where to elope in Cornwall. 
What is an Elopement Wedding?
Elopement is a term used to describe a couple's secret arrangements to marry without the presence of their friends and relatives. However, the term has come to mean a destination wedding, a small-scale wedding, a micro wedding, and even a tiny civil ceremony.
How to Elope UK?
An elopement is one of the quickest, simplest, and least expensive ways to marry in the UK, but you must first understand the legal requirements.
You must also be a British citizen (or have the correct right to marry in Britain). Then it's just a matter of choosing a ceremony location and obtaining a licence. Then all you have to do is show up on the scheduled date!
Where to Elope
Beacon Crag
Lower Barns
The Cow Shed
The Green
The Scarlet
Ta Mill
The Cove Café
Beacon Crag
The Beacon Crag is ideal for those who want a smaller Cornwall elopement or just the two for them.  This exquisite setting will make your heart sing, with sea views from practically every window and a terraced garden with lawns cascading down to the cliffs below!
Choose any time of year to marry since each season offers something magical. Winter guests appreciate stormy weather when the waves are at their most beautiful; summer visitors enjoy warm sunshine streaming in through the windows. Regardless of the season, this gorgeous venue provides an outstanding Cornwall elopement experience!
Lower Barns
Lower Barns, on the south coast of Cornwall, is tucked away along a small lane, filled with wild primroses and white cow parsley in the spring and summer, and reds and oranges in the autumn and winter.
Surrounded by beautiful beaches, this location is ideal for wedding couples looking for the ultimate seaside photo opportunity. As a Cornwall elopement photographer, I couldn't agree more that this place is an honour to photograph weddings at. 
Lower Barns can provide a magnificent setting for intimate 'runaway' weddings and elopements, having wooed countless couples with a distinct and characterful approach to design, service, and making memories.
The Cow Shed
The Cow Shed at Freathy Farmhouse is a fantastic Cornwall wedding elopement venue that provides a one-of-a-kind and breathtakingly gorgeous country backdrop for a wonderfully rustic and romantic wedding ceremony and reception. 
This venue is set on an acre of lush grounds on the beautiful Rame Peninsula, nestled away down a Cornish country lane. The barn is a blank canvas that allows you to express yourself with the decor and have the wedding and ceremony you've always dreamed of in a serene, relaxing, and casual setting.
The Green
This old dairy farm, The Green, located on the outskirts of Bodmin Moor, has undergone a spectacular transformation. The farmhouse and barns provide luxurious accommodations as well as an exquisite setting for a Cornwall elopement wedding.
Celebrate at a cabin with up to six friends for something even more intimate. Couples have the option of tying the knot in one of two beautiful outdoor settings: The Green's wooden arbour, which is perched on a hillside and overlooks a canopy of trees.
There's also the venue's lake arbour, which is situated among the woods beside their lake. The Wedding Barn, The Rustic Barn, The Green Room, and The Red Brick Barn are all available for indoor elopement ceremonies.
The Scarlet
The Scarlet is an eco-friendly hotel nestled among the stunning Mawgan Porth cliffs in Cornwall. The Scarlet Hotel in Cornwall advertises itself as a modest and private wedding location that specialises in elopement weddings.
The reception would be held in their Reception Lounge, which overlooks the ocean and features a wood-burning heater to keep any winter wedding cosy. Ceremonies for weddings of 7 to 20 people are held in their Retreat Lounge.
Ta Mill
The most romantic venue for a Cornwall elopement wedding or a small wedding with a few family and friends is Ta Mill. They offer a serene setting which is suitable for any couple looking for a less traditional and informal celebration in beautiful surroundings where they can unwind and have a stress-free wedding at any time of year.
This venue is great as they offer elopement packages! You can celebrate in the onsite hot tub and they will offer you a complimentary bottle of champagne.
The Cove Café
The Cove Café has a beautiful terrace area. It offers spaces for a lovely wedding feast and nighttime celebrations. You can spend as much or as little time at The Cove Café as you choose on your wedding day.
You can have your wedding ceremony, vow renewal, and celebration, or just your celebrations. In any case, you'll get exclusive access to The Cove Café and that stunning backdrop to set the tone for your special day.
They have created menu options that reflect the passion that owners Nick and Roger have for the Mediterranean, as well as their gorgeous setting as a Cornish Coastal venue with a piece of the Mediterranean. You can expect a laid-back dining experience with a focus on high-quality food.
This quirky little wedding venue by the sea is completely licensed, and drinks, including your own wedding day cocktail recipe, can be delivered throughout the day.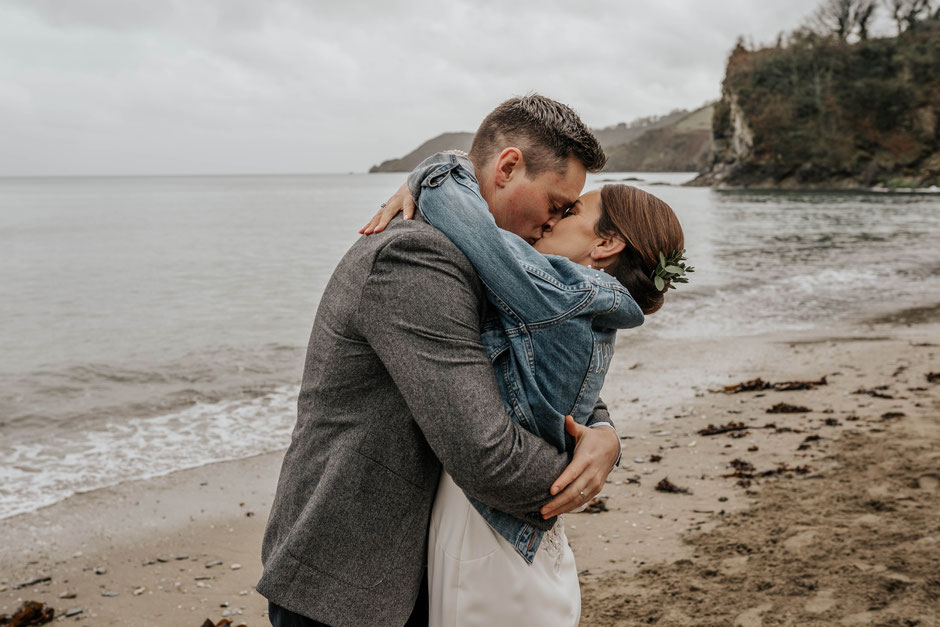 Should you Elope in Cornwall?
There are numerous reasons why you and your partner should elope in Cornwall. Eloping is an incredible adventure and an excellent way to begin your married life together. It's also a lot more personal and intimate than a massive traditional wedding.
People elope for a multitude of reasons, but it is a very personal decision. A popular reason why people elope is so they can escape the stress of wedding planning. Some people hate being the centre of attention and feel much more relaxed knowing they do not have a crowd watching them. 
Another popular reason as to why people elope is they dislike traditional weddings and don't want to conform to what is expected at a wedding, therefore they make their own rules and ideas! This is a great way to make your magical day unique to you and an experience that you genuinely want. 
As a Cornwall elopement photographer, I love experiencing these beautiful moments with my couples to help them capture the memories for a lifetime.